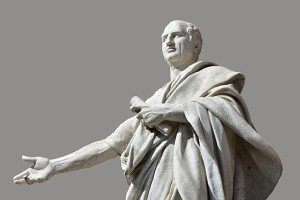 Ler em PDF: Populismo-Republica-Romana
Resumo
Este artigo defende a seguinte tese: a República Romana (séc. II-I a.C.) era bipartidária, com optimates e populares a rivalizarem pelo poder, numa sociedade altamente competitiva. Os primeiros defendiam os interesses do status quo, eram conservadores e defensores dos privilégios dos nobres ou da eleite governante. Os segundos eram progressistas e falavam em nome do povo. Nenhum dos grupos controlava completamente a população, mas sentia necessidade crescente em fazê-lo, com base numa oratória cada vez mais populista (demagógica) e instrumental num contexto de meios a justificarem os fins.
Palavras-chave: Antiguidade Romana, República, Populismo
Abstract
This article defends the following thesis: the Roman Republic (II-I century BC) was bipartisan in a highly competitive society. The optimates fovored of the status quo, were conservative and defended the privileges of the nobles or the ruling elite. The populares were progressive and spoke on behalf of the people. None of the groups completely controlled the population, but felt a growing need to do so, in order to achieve their goals, with the help of an oratory increasingly populist (demagogic) and instrumental when the end justified the means.
Keywords: Roman Antiquity, Republic, Populism.